Zingerbay News Letter May 1st 2008 (Letter:4)
If anyone wishes to submit articles for our monthly news letter please write us at support@zingerbay.com
Top 10 Songs of the month ( Review by Amit Dhawan)
#1. Kehne Ko Jashn-e-Bahara by Javed Ali - Jodha Akbar
Well folks I have to say that last one month has been fairly dry as far as movie songs are concerned. None of the released songs came even close to taking this song down and so my #1 song is still the same this month. This is one of the few evergreen songs you'd love to listen to years from now. It can only be a pure genius like A.R. Rehman who can come up with Gems like this one again and again. Javed Ali has done full justice to this romantic song with his soulful singing.
#2. Judai by Kamran Ahmed - Jannat
It's a very captive song falling in the Rock genre and a sure shot hit. Beautifully rendered and composed by Kamran Ahmed .
#3 . Zara Zara Touch me by Monali - Race
Great R&B style song. Fun to listen to and and fun to dance on as well. Monali's sexy voice goes very well with Pritam's slow beats.
#4: Break Free by Vishal Dadlani - Krazzy 4
Another great dance number full of energy. Rajesh Roshan's Music is fresh and very catchy.
#5. Aankhon Mein Teri by K.K - Om Shanti Om
Drum role please ... this song proves that Indian music is still thriving. The song is a music video in itself - makes you visualize beautiful times with your significant other. K.Ks rendition of the song is as passionate as Sonu Nigam's . By the way, this is a great song for Karaoke singers.
#6 Mauja Hi Mauja by Mika Singh - Jab We Met
Another great dance number and ofcourse you can jog to the beats as well !
#7 Taare Zameen Par by Shankar Mahadevan - Taare Zameen Par
Great poetic singing by Shankar Mahadevan . Prasoon Joshi's lyrics will touch your heart. What a combination of great voice, composition and lyrics.
#8 Ye Ishq Hai by Shreya Goushal - Jab We met
A catchy song with a mischievous touch to it. Shreya is a great singer and she clearly shows her versatility in this song. It's a pure pleasure to listen to her ...
#9 Deewangi - Om Shanti Om
Another great foot-tapping music from Om Shanti Om. It's a rocking number and a super hit. Perfect for your dance parties.
#10 Hum To Aise Hain - Laaga Chunari Mein Daag
A song full of life and the " folky " music make this song fun to listen to
I'd love to hear from you if you think some of these songs don't deserve to be on the list or just send me your opinion. My next update will be published on Jun/1/2008 and I'd love to hear from you on your choice for the Top 10 list. Until then ...
Signing off ...

Amit Dhawan click here to mail me
Video Karaoke on Zingerbay By (Surendra Mistry)
Many people, though not professional singers, love to sing, however it,s not easy to get a team of musicians together to provide the accompaniment. This is perhaps what led to the creation of Karaoke tracks. Karaoke provides a convenient solution for people who wants to sing for fun at parties, or even for professionals who want to create a demo tape.
To provide a rich source of karaoke tracks with synchronized lyrics, zingerbay has created a section called video karaoke. In this section you will find over 300 popular hindi film songs, complete with synchronized lyrics and video prompt to make it fun and easy to stay in sync with the music.
To access this section, from zingerbay home page click on the MUSIC drop down menu and select karaoke. This will open the following page, which is a search form that can locate your choice of karaoke based on the following selection criteria.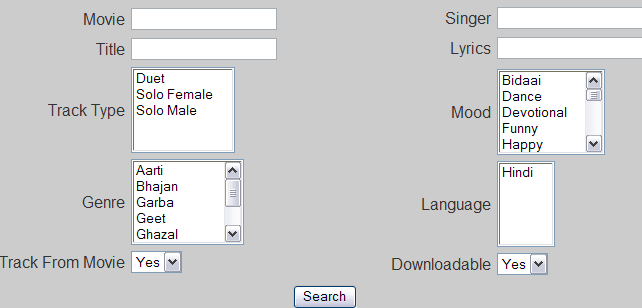 After setting up your selection criteria, click on the search button, which will find all the tracks that match from the data base and provide a listing as shown below.

if you wish to play the track and see the video prompt simply click on the play link. This open the video player and highlight the lyrics in red at the appropriate time as the song plays as shown on the left.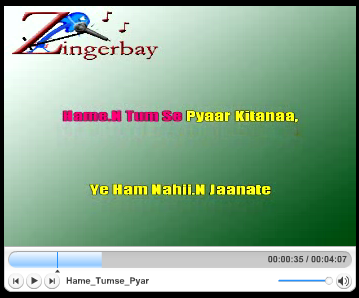 If you wish to see the lyrics simply click on the lyrics link and it will open a window displaying the lyrics as shown below.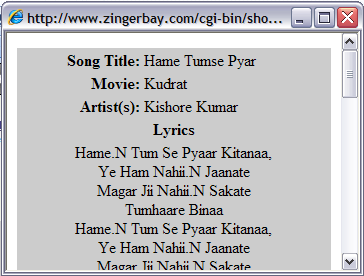 If you wish to have the flexibility to change the pitch and the tempo of the song as well as have a larger window for the synchronized lyrics you can download the free karafun software and then download the track and play it using karafun.
Follow these steps to download and use karafun.
Once downloaded, run the setup program (karafun.exe) to install the software on your computer.
Download and copy the tracks you wish to sing from zingerbay site to the following folder on your computer. C:\Program Files\KaraFun\Songs
When you start the karafun prog your tracks will be listed in the songs folder as shown below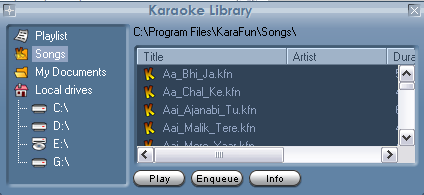 To play the track simply click on the track name.
to change the pitch or the tempo of the song use the control panel shown below

Use the Key and the tempo sliders to select your scale and tempo for the track.
The player section of Karafun is used to start, stop, fast forward and rewind the track.

Once you have selected the song, setup the tempo and the pitch and started the song the prompt window will scroll the lyrics in sync with the music. as shown below.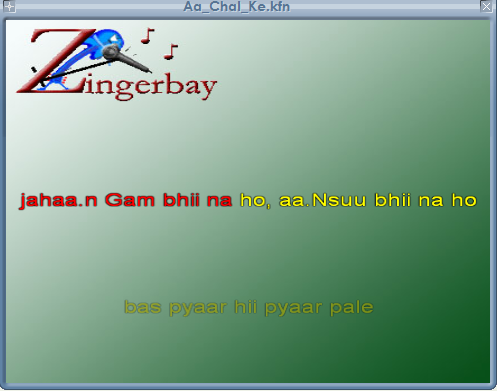 As you can see from the above steps it is very easy to use zingerbay's Karaoke facility to setup a library of songs that you can play and sing along with at your own pitch and tempo.
Have Fun! and invite your friends to zingerbay to grow our zinger community.
If you find this section of zingerbay useful or have suggestions please email me at smistry@zingerbay.com
Music for Beginners (Shekhar Phatak)
For comments email shekhar@zingerbay.com
Top Zingers in the professional catagory
Top 3 Artists that have great potential listed as professional zingers
Each month we will be selecting different zingers in our news letter.
Selection criteria for this month is based great voices from the professional section of zingerbay..
Each month we will have a different criteria for selection.
Top 4 Songs of the month selected by zingerbay judges