Zingerbay News Letter April 1st 2008 (Letter:3)
If anyone wishes to submit articles for our monthly news letter please write us at support@zingerbay.com
Top 10 Songs of the month ( Review by Amit Dhawan)
#1. Kehne Ko Jashn-e-Bahara by Javed Ali - Jodha Akbar
This song moves to #1 this month and I'm sure this is one of the few evergreen songs you'd love to listen to years from now. It can only be a pure genius like A.R. Rehman who can come up with Gems like this one again and again. Javed Ali has done full justice to this romantic song with his soulful singing.
#2. Khwaja Mere Khwaja by A.R.Rahman – Jodha Akbar
I was watching Jodha Akbar and when this song started I said to myself – what a boring song, BUT within the next minute I was totally into it. It's one of the most creative and a beautifully hauting song that A.R. Rahman has composed and actually sung. It's a treat to listen to.
#3 . Race is on my mind by Sunidhi and Neeraj - Race
I like all kinds of songs and although is a total contrast to the above two I like the music composition. It's loud and in-your-face song but stays in your mind or some time.www ..
#4 Judai by Kamran Ahmed - Jannat
It's a very captive song falling in the Rock genre and a sure shot hit. Beautifully rendered and composed by Kamran Ahmed
#5. Aankhon Mein Teri by K.K - Om Shanti Om
Drum role please ... this song proves that Indian music is still thriving. The song is a music video in itself - makes you visualize beautiful times with your significant other. K.Ks rendition of the song is as passionate as Sonu Nigam's . By the way, this is a great song for Karaoke singers.
#6 Mauja Hi Mauja by Mika Singh - Jab We Met
Another great dance number and ofcourse you can jog to the beats as well !
#7 Taare Zameen Par by Shankar Mahadevan - Taare Zameen Par
Great poetic singing by Shankar Mahadevan . Prasoon Joshi's lyrics will touch your heart. What a combination of great voice, composition and lyrics.
#8 Ye Ishq Hai by Shreya Goushal - Jab We met
A catchy song with a mischievous touch to it. Shreya is a great singer and she clearly shows her versatility in this song. It's a pure pleasure to listen to her ...
#9 Deewangi - Om Shanti Om
Another great foot-tapping music from Om Shanti Om. It's a rocking number and a super hit. Perfect for your dance parties.
#10 Hum To Aise Hain - Laaga Chunari Mein Daag
A song full of life and the " folky " music make this song fun to listen to
I'd love to hear from you if you think some of these songs don't deserve to be on the list or just send me your opinion. My next update will be published on Mar/1/2008 and I'd love to hear from you on your choice for the Top 10 list. Until then ...
Signing off ...

Amit Dhawan click here to mail me
Rythm Loops for Practice (Riaz) By (Surendra Mistry)
Zingerbay has a section called Rythm loops which has 168 different tabla loops which run for over 10 minutes each. This was primarily designed for vocalists who need rythm accompaniment while they are practicing. This article explains how to use the online loops.
To access this feature simply go to www.zingerbay.com You will see the pane below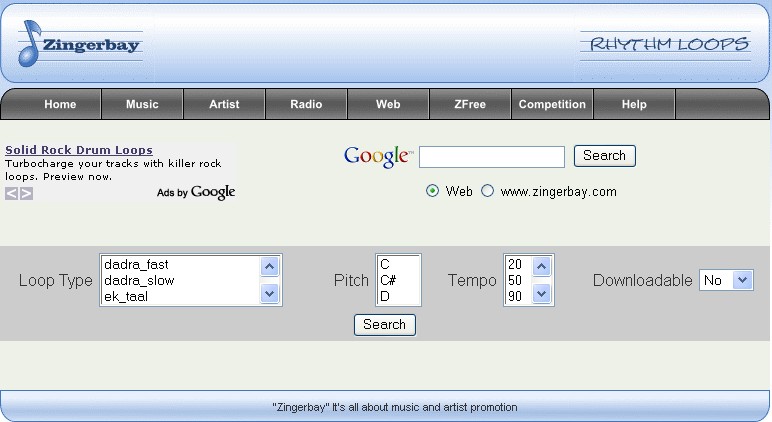 The search form shown above has 3 selectable fields.
Loop Type

THis lets you select the Taal

Pitch

This allows you to select the pitch of the taal

Temp

Allows you to select the speed of the rythm
If you want to see all the available loops simply click on the search button.
Loop Selection
Once you have clicked on the search button you will get a list of loops based on your selection criteria as stow below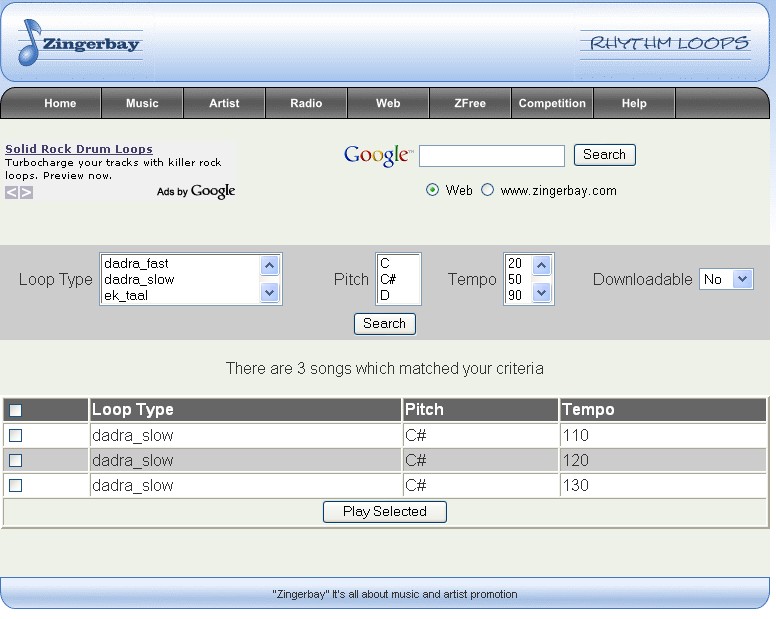 Here I have selected dadra_slow beat Pitch C# and left the temp field unselected. This returns all dadra_slow loops in C# pitch.
Play Loop
To play the loop or multiple loops in succession simply check the ones you want and hit the play selected button.
This will start up the flash player and your selected loops will play sequentially.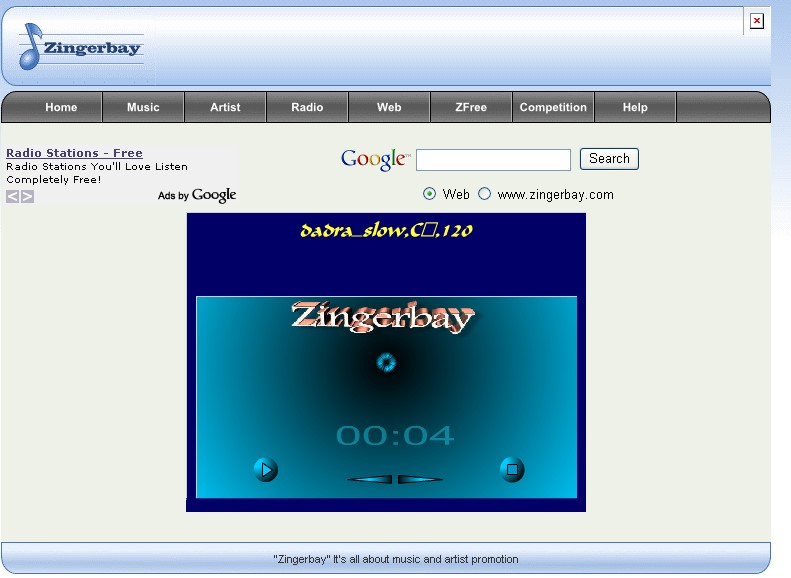 If you have selected multiple loops you can use the < or > buttons to move back and forth between selections.
Available Loops
The following loops are available, each in three pitches and 3 different tempos.
| Rythm | Variations | No of Beats per cycle |
| --- | --- | --- |
| dadra_fast | 1 | 6 |
| dadra_slow | 1 | 6 |
| hinch | 1 | 6 |
| jhap_taal | 1 | 10 |
| Kaherva_1 | 1 | 8 |
| Kaherva_dhole | 1 | 8 |
| kaherva_fast | 1 | 8 |
| karherva_med | 3 | 8 |
| kaherva_slow | 3 | 8 |
| teentaal | 2 | 16 |
| Teen_taal_madhya_laya | 1 | 16 |
| Teen_taal_slow | 1 | 16 |
| Teen_taal_vilambeet | 1 | 16 |
| Rupak_slow | 1 | 7 |
If you find this section of zingerbay useful or have suggestions please email me at smistry@zingerbay.com
Music for Beginners (Shekhar Phatak)
In the last months article we talked about getting down to basics and start singing. That is what we are going to do later in this article. But first we must know what we are going to sing.
So…..What is Indian Music?
The music of South Asian Continent made up of India , Pakistan , Bangladesh , Nepal and Sri Lanka is known as Indian Music. There are two distinct styles of Indian Music. 1 Music of Northern part of the subcontinent that includes Pakistan , Nepal and Bangladesh is known as North Indian Music and the music of South of Maharashtra state and Sri Lanka is known as South Indian Music.
Music is an art form consisting of sound and silence arranged in time. The definition of music varies according to culture and social context. In India music is defined as an art of singing, playing a musical instrument and dance.
What is Music made up of?
Music is made up of sounds arranged in time. The primary elements of sound are pitch and rhythm. Pitch is the highness or lowness of the sound. Rhythm is a pattern of pulses in time.
Pitch
The highness or lowness of the sound are called a pitches. In music there are 12 pitches that are identifiable and they are known as tones or Swara.
Shuddha Swar:
There are 7 tones or swara in Indian music that are designated as Shudha swar. They are:
| | | |
| --- | --- | --- |
| SWAR | NAME | NOTATION |
| SA | SHADAJ | S |
| RE | RISHABH | R |
| GA | GANDHAR | G |
| MA | MADHYAM | M |
| PA | PANCHAM | P |
| DHA | DHAIVAT | D |
| NI | NISHAD | N |
They are equivalent to C, D, E, F, G, A, B, all white keys starting from the 1 st one on your Piano/Keyboard or Harmonium. S, R, G, M, P, D, N and higher SA make up an Octave, a group of 8 notes. S to N, a group of seven notes make up a Saptak. Singing or playing notes from S to SA in succession makes up Sargam.
It is easier to understand the structure of these notes in the form of a staircase. Please see the figure on the next page: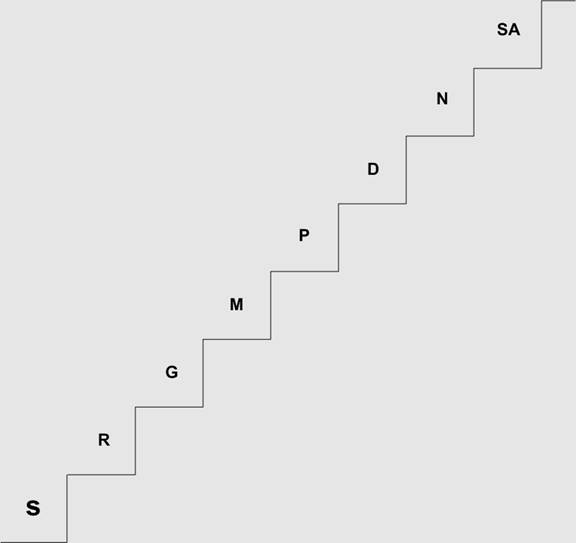 Vakra Swar:
The remaining five notes are known as Vakra Swar. There are two types of Vakra Swar
Komal – 4 swar from Shuddha scale are flattened. The are known as Komal Swar. They are RE, GA, DHA and Ni. We underline them to differentiate.
Tivra – One note is sharpened from Shuddha swar. This is known as Tivra Swar. This note is Tivra MA.
Here are those Vakra Swara.
| | | |
| --- | --- | --- |
| SWAR | NAME | NOTATION |
| RE | KOMAL RE | R |
| GA | KOMAL GA | G |
| MA | TIVRA MA | MA |
| DHA | KOMAL DHA | D |
| NI | KOMAL NI | N |
Again let us look at the steps to understand this better:
IDENTIFYING NOTES:
Identifying notes, pitches and rhythm are the most important steps towards learning music. One can become a good musician or a singer only if they have good ear. Ear training is thus the most important part of learning music. It takes years to learn to identify notes, then the intervals, chords, raga, taal and tonal qualities of instruments.
You should listen to every sound that you hear and try to identify and copy it. This will make learning music easier.
FUN STUFF –
This is just for your fun. In India , we believe that all the Shuddha swar have originated from the sound of a different animal. They are also related to one of the seven chakra's of the body. Here is what I found on internet.
| | | | | |
| --- | --- | --- | --- | --- |
| Swara | Expansion | Meaning | Animal | Chakra |
| Sa | Shadja | -- | Peacock | Muladhara (Lower back) |
| Re | Rishabha | bull | Bull | SwaSthana (chest) |
| Ga | Gandhara | -- | Goat | Manipura (Stomach) |
| Ma | Madhyama | middle | Dove | Anahata (heart/lungs) |
| Pa | Panchama | fifth | Cuckoo | Vishuddha (Throat) |
| Dha | Dhaivata | -- | Horse | Anjna (Between eyes) |
| Ni | Nishada | Hunter | Elephant | Sahasrara (crown of the head) |
Chakra are commonly described, as above, as energy centers in the body located at major branching of the human nervous system, beginning at the base of the spinal column and moving upward to the top of the skull. Chakras are considered to be a point of metaphysical and/or biophysical energy of the human body.
Chapter 2
Alankar
As we said earlier, ear training is one of the most important steps towards learning and understanding music. Music pundits have designed a very simple way of training ears by creating sequences of notes. These patterns have also become the building blocks of a musical composition. These building blocks or sequences are known as Alankar. Alankar literally means an ornament or decoration. After learning a few Alankars, try to identify them in any musical compositions. You will hear them everywhere, from the music of RD to AR and from the music of Bach to Beethoven. All that you do is listen for it.
Let us start with a simple pattern in numbers.
1
1 2
1 2 3
1 2 3 4
1 2 3 4 5
1 2 3 4 5 6
1 2 3 4 5 6 7
1 2 3 4 5 6 7 8
Now let us put musical notes in place of numbers now.
S
S R
S R G
S R G M
S R G M P
S R G M P D
S R G M P D N
S R G M P D N SA
Here is another one.
8
8 7
8 7 6
8 7 6 5
8 7 6 5 4
8 7 6 5 4 3
8 7 6 5 4 3 2
8 7 6 5 4 3 2 1
Write the musical pattern keeping the above numbers in mind.
Here are some more:
1 2, 2 3, 3 4,
S R, R G, G M
SS RR, RR GG
SSS RRR GGG
SRS RGR GMG
SRSS RGRR GMGG
SSRS RRGR GGMG
SRG RGM GMP
SRGM, RGMP, GMPD
SG, RM, GP
SGM, RMP, GMD
SRS, RGR GMG,
SRSRG, RGRGM, GMGMP
SRSGRGSR, RGRMGMRG, GMGPMPGM,
SRRSG, RGGRM, GMMGP,
We will expand on this next month.
For comments email shekhar@zingerbay.com
New Artists that have Joined recently
Top 3 New Artists that have joined zingerbay and have uploaded their songs In the Month Of March are:
Each month we will be selecting different zingers in our news letter. Selection zingers for this month is based on new additions .
Each month we will have a different criteria for selection.
Top 4 Songs of the month by Zinger artists