Zingerbay News Letter March 1st 2008 (Letter:2)
Zingerbay is proud to start a monthly news letter. This is our first news letter of 2008 and we will be covering the following topics.
If anyone wishes to submit articles for our monthly news letter please write us at support@zingerbay.com
Top 10 Songs of the month ( Review by Amit Dhawan)
#1. Aankhon Mein Teri by K.K - Om Shanti Om
Drum role please ... this song proves that Indian music is still thriving. The song is a music video in itself - makes you visualize beautiful times with your significant other. K.Ks rendition of the song is as passionate as Sonu Nigam's. This month the song takes first place in my list ...hands down. By the way, this is a great song for Karaoke singers.
#2. Kehne Ko Jashn-e-Bahara by Javed Ali - Jodha Akbar
Sir AR Rahman has done it again - it can only be a pure genius like him who can come up with Gems like this one again and again. This one will be #1 next time for sure. Javed Ali has done full justice to this romantic song with his soulful singing. You can use this song as a Valentine Gift if you have nothing else ... (c'mon don't be so cheap !)
#3. Missing Sunday by Mahlia Kamath, Suraj and Earl Edgar - Sunday
Guys and Gals stop being lovy-dubby and get on the dance floor ... I don't know how to say this but it's a sexy number and makes you want to get on the floor with your partner...... and DANCE (what were u thinking). It's perfect for a slow dance ...
#4 Main Agar kahoon by Sonu Nigam, Shreya Ghoshal - Om Shanti Om
When I first heard the song I couldn't help but think that this song is from a 60's movie but Sonu singing??? Well that's what's great about this beautiful romantic song - great lyrics, great singers and great music. Perfect for karaoke as well.
#5 Bhool Bhoolaiyan by Neeraj - Bhool Bhoolayian
A Great Dance number - what else can I say about this number. This will get your foot-tapping for sure - but don't take my word for it - go ahead and play it.
#6 Mauja Hi Mauja by Mika Singh - Jab We Met
Another great dance number and ofcourse you can jog to the beats as well !
#7 Taare Zameen Par by Shankar Mahadevan - Taare Zameen Par
Great poetic singing by Shankar Mahadevan. Prasoon Joshi's lyrics will touch your heart. What a combination of great voice, composition and lyrics.
#8 Ye Ishq Hai by Shreya Goushal - Jab We met
A catchy song with a mischievous touch to it. Shreya is a great singer and she clearly shows her versatility in this song. It's a pure pleasure to listen to her ...
#9 Deewangi - Om Shanti Om
Another great foot-tapping music from Om Shanti Om. It's a rocking number and a super hit. Perfect for your dance parties.
#10 Hum To Aise Hain - Laaga Chunari Mein Daag
A song full of life and the "folky" music make this song fun to listen to

I'd love to hear from you if you think some of these songs don't deserve to be on the list or just send me your opinion. My next update will be published on Mar/1/2008 and I'd love to hear from you on your choice for the Top 10 list. Until then ...
Signing off ...
Amit Dhawan click here to mail me
How setup a basic recording studio with your laptop (Surendra Mistry)
Introduction
Last Month we talked about recording using your computer. This months article looks at setting up a basic recording studio with your laptop or desk top.
First let us clarify who this setup is suited for: This setup is Ideal for the solo composer recording him or her self one track at a time; or for the recording of a small small ensemble overdubbing the parts, one or two mics at a time. Good for Hip hop and all forms of electronica and dance, as well as acoustic guitarists/synth/vocalists/songwriters.
The Firebox comes with Cubase LE (A audio recording software) to get you going. You can plug in your guitar and mic on the front panel and connect a synth in the back. If you decide later you want a mixer you'll have 6 analog outs to feed it and you have s/pdif for connecting up to other digital gear. Finally, you're going to be recording at 24 bits, just like many pros do.
Hooking up this rig: Utter simplicity. Firewire cable from firebox to computer. Mic to XLR input. Keyboard controller to any USB input. Active Monitors on the main outs. Done. Done. Done! So easyanyone could do it in less than 10 mins. If you have a keyboard or module with sounds then it connects to the firebox line inputs 3 and 4 on the back. If you have a keyboard with no USB use the onboard 5 pin MIDI jacks.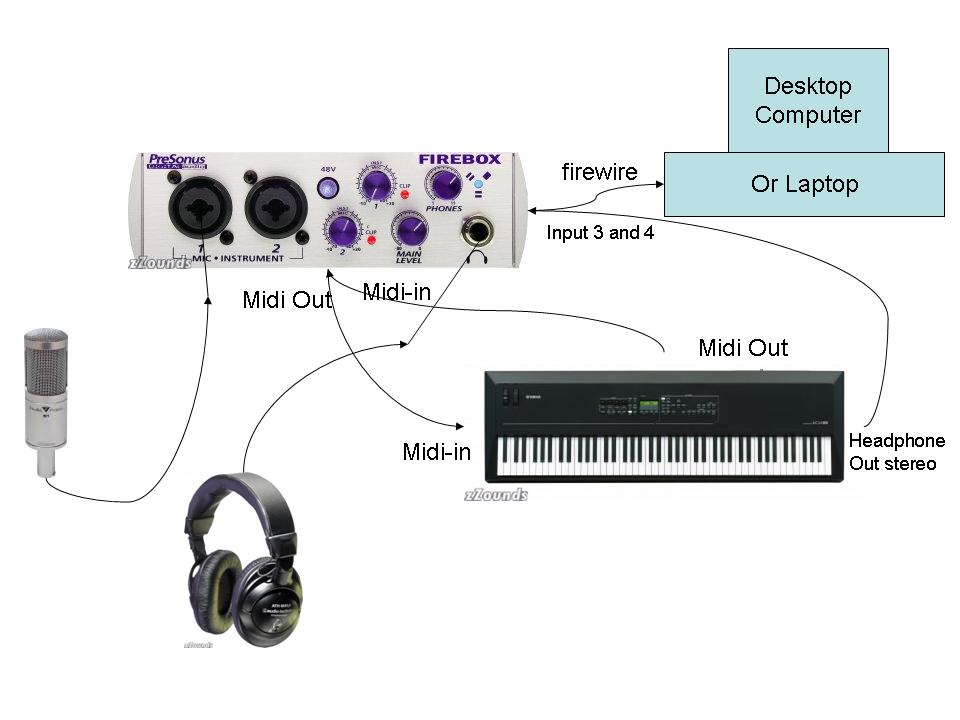 Discussion
Its amazing how little it takes when you really get down to it. The cool thing about this rig is great sound in a tiny easy to set-up system. You can operate with a minimum of wires and use it on a laptop or a desktop. Because both the firebox and Xboard are bus powered, take along some phones and you could record on a road trip. Of course you want to make sure you have a high performing laptop with a fast hard disk, or just use it with you home firewire equipped desktop.
The studio projects B1 is a good condenser microphone that costs around $100.
A quick note--beware of dynamic mics that require a lot of gain like the classic Shure SM57. You'll have to use the gain boost switch, which will add some noise. Condenser mics will be fine as they typically require less gain.
This system is upgradeable at any time. You can add premium Mic preamps better monitors and AD\DA converters when major cash comes in if you need to sound as professional as possible. But this system gets you off the ground with excellent sound.
Alternatives to the Firebox:
If you want to start a studio using Cakewalk's Sonar, consider using the new Cakewalk SONAR PowerStudio 660 , which includes a Firewire audio interface. The monitors, mic, keyboard and headphones above will work fine with the PowerStudio.
As an alternative to the firebox for Mac systems , I recommend you substitute a MOTU Ultralite or a MOTU 8 pre. Yep, these will cost more. Remember now mmmmMac and mmmmMotu are good! That is a generalization. Its fairly safe when talking about MOTU's recent audio interfaces. Did I say PC? No I did not. (Be wary any time you find yourself, or a gear salesman, generalizing).
Posture while singing (Shekhar Phatak)
Hello Zingers,
I am back with an another article on Singing. This one talks about the postures while performing. Most of us have now adopted the western way of performing – Standing up. Some of us however still prefer to sit down and perform. In either case it is important to have a good posture and a nice smile on your face!
There are some do's and don'ts that you should pay attention to.
Do's
Be relaxed and natural
Keep your movements fluid
Keep your chin level
Keep your knees loose
Keep your head up
Keep your shoulders sloping and relaxed
Keep your toes pointed forward with your weight on heels and soles
Keep the front of your neck loose - don't stretch it
Keep abdominal muscles relaxed
Keep your back muscles relaxed
Smile!

Don't.....
Drop or hunch your shoulders
Move stiffly or jerkily
Drop or tuck in your chin when trying to sing low notes – most of us do this somehow
Stretch your head upward when trying to sing high notes – I know even the well known artists do this. It is a big no no….
Strain or push your abdominal muscles
Pay attention to the above and then work on following excercises.
For these exercises you will need:

A long mirror (preferably full length)
A largish book of medium weight
Wear comfy loose clothing
Wear flat shoes, trainers or bare feet.
A flat long surface i.e., hallway or enough room to walk several paces.
A friend who can observe and make constructive comments & notes.
Patience & a good sense of humour!
Exercise 1

Place the book centrally on the top of your head.

Turn your head slowly to the left, return to center then repeat the exercises turning your head to the right. The head movements should be smooth with eyes ahead, chin level, head, neck and shoulders relaxed. If the exercise is done correctly the book will remain in place. Tense up, drop the jaw or move jerkily & the book will fall! Repeat this exercise until you can do it several times without the book falling off.

Exercise 2

Stand at the end of the walk space and place the book centrally on the top of your head.

Walk normally towards the mirror, observing your posture as you walk. If your posture is correct and your movements are smooth then the book will remain in place - if not it will fall! Repeat this exercise until you can walk the length of the space without the book falling.


Exercise 3

Stand at the end of the walk space and place the book centrally on the top of your head.

Walk normally towards the end of the walkspace, turn and walk back towards the starting point. If your posture is correct and your movements are smooth then the book will remain in place - if not it will fall! Repeat this exercise until you can do the exercise without the book falling.
In the next article we will talk about REAL SINGING. We will take one song at a time and perfect it in every possible way.
For comments email shekhar@zingerbay.com
Top 4 Zingers of the month
This months top four zingers are the winners of our competition that ended in January
First Prize $400

Judges Choice score =7.8

First Prize $400

Judges choice score = 7.8

Second Prize

highest hits

$500.00

Third Prize

2nd highest hits $200.00
Each month we will be selecting different zingers in our news letter. Selection of top zingers for next month will be based on the number of hits on the artist profile. Each month we will have a different criteria for selection.
Top 4 Songs of the month by Zinger artists